Released version 1.3.0 of the rkTeaching package
The 1.3.0 version of the R package rkTeaching is available to install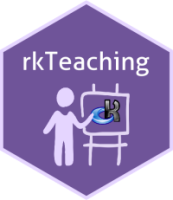 The 1.3.0 version of the R package rkTeaching for learning Statistics is available to install. This version is updated with the 3.2.3 version of R and the 0.6.5 version of RKWard.
This is a transitional version towards a major update that will arrive shortly and will incorporate the internationalization of the package.
To install it visit the page of rkTeaching.
Related